The Navian Project Details and Information
Project Name
The Navian
Development Address
178 Jalan Eunos Singapore 419530
Project Developer
Roxy Homes
Tenure
Estate in Fee Simple (Freehold)
Condo District
D14
Site Area
24,909 sqft
Total Gross Floor Area
34,872 sqft
No of Blocks
2
No of Storeys
05
No of Units
48 Residential Units
No of Carpark Lots
48 Residential Carpark Lots + 1 Handicap Car Park Lot
No of Lifts
02
TOP
Vacant Possession: 31 December 2020
Legal Completion: 31 December 2023
Description
2 Blocks of 5-storey Residential Flats with Surface Car Park and Swimming pool and Communal Facilities at the Roof Terrace
Paya Lebar Square Square Near The Navian

Paya Lebar Square is a commercial property comprising of office as well as retail space that is right next to Paya Lebar MRT Station. It is a 13 storey building and the first 3 floors are designated for retail purposes such as F&B and fashion. The development is close to The Navian Condo at Paya Lebar
There are many anchor tenants located at Paya Lebar Square such as Giant Supermarket as well as MacDonald's. It is a popular shopping mall among the young and trendy due to its location and tenant mix. Residents of The Navian are only a short drive away from Paya Lebar Square as well as Paya Lebar MRT Station.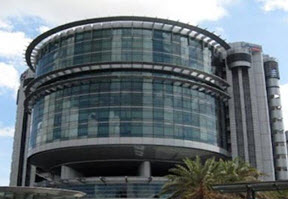 Singapore Post Centre Beside The Navian

Singapore  Post Centre is an office building located right next to Paya Lebar MRT Station. It has a wide range of F&B Selection as well as retail shops located at the first floor of the development.
Some of the anchor tenants located at Paya Lebar Square include Fair Price, MacDonald's, KFC as well as subway. It is a popular centre for food lovers due to its wide selection available for the office crowd.
Kaki Bukit Industrial Hub at Kaki Bukit MRT Station
Kaki Bukit is an industrial hub of the city. Kaki Bukit is full of factories and industrial parks. Kaki Bukit district has five industrial parks. There is hardly any part of Singapore which has five industrial parks. There is every type of offices in the sky high building. e.g., manufacturers, suppliers, and distributors. Kaki Bukit district has a number electric and non-electric manufactures.
Kaki Bukit is also famous for its automobile industry. Some known brands in the market of the automobile are located to Kaki Bukit district. Kaki Bukit: Some known companies Kaki Bukit is full of big names when it comes to the leading companies of the locality. Spinelli Coffee Company, Hawley & Company, Kelantan Electric Company, Associate Stationery Company, Gee Liam Battery Company are some of the known brands who have made their mark on the local and international market.
Cafes and restaurants in Kaki Bukit Compound Coffee co. is very famous for some amazing coffee experience. Compound Coffee is very famous due to its services, taste, and hospitality. Chong Pang is a worth visiting place especially when you are in need of something yummy to satiate your hunger. There is only one choice in the locality when it is about the best satay. Quan Xing Spicy Prawn Crackers has fabulous taste in prawn cooking. How someone can forget Tian Nan Xing Minced Pork Noodles and Nghoi's Curry.
Eunos MRT Station Public Transport System
Eunos MRT is a Mass Rapid Transit train station on the East West Line in Geylang Serai, Singapore. The station was named after a Malay pioneer Muhammad Eunos bin Abdullah. At the time, he kept a land of 700-hectares for Malay settlements lived in the area. There is a bus station named the Eunos Bus Interchange is very close to the station.
The design of the station has a different style than other stations. There is nice cultural and historical feel about the place, architecture wise. It is more cultural and original looking, compared to other close stations such as Bedok, Tampines, Tanah, Merah. The structure has a touch of traditional Malay architecture, and its roof is quite inspirational about Malay history, reminding the settlements lived in the area. Strong materials such as steel beams are used to provide integrity of the station and the colors are mostly Bluish to provide a sense of identity to the area.
The Construction lasted about 13 years before the station started operations. Unlike with most of the above-ground stations, the station is built with privacy screens to minimize noise impact to and from resident living around. This station is also installed with low speed fans to provide ventilation and air circulation.