The Navian is a freehold development by Roxy Homes located at Jalan Eunos in District 14. With expected completion in Dec 2020, it comprises of 48 units and stands 6 storeys tall and is located right next to major roads and expressways. It is situated at Jalan Eunos off Pan Island Expressway (PIE). Future residents of The Navian will be able to access the nearby Paya Lebar Square and Tanjong Katong Shopping Centre which is a short drive away for some family fun and gatherings. A truly unique lifestyle awaits you.
The Navian Project Details and Information
Project Name
The Navian
Development Address
178 Jalan Eunos Singapore 419530
Project Developer
Roxy Homes
Tenure
Estate in Fee Simple (Freehold)
Condo District
D14
Site Area
24,909 sqft
Total Gross Floor Area
34,872 sqft
No of Blocks
2
No of Storeys
05
No of Units
48 Residential Units
No of Carpark Lots
48 Residential Carpark Lots + 1 Handicap Car Park Lot
No of Lifts
02
TOP
Vacant Possession: 31 December 2020
Legal Completion: 31 December 2023
Description
2 Blocks of 5-storey Residential Flats with Surface Car Park and Swimming pool and Communal Facilities at the Roof Terrace
Paya Lebar Square Square Near The Navian

Paya Lebar Square is a commercial property comprising of office as well as retail space that is right next to Paya Lebar MRT Station. It is a 13 storey building and the first 3 floors are designated for retail purposes such as F&B and fashion. The development is close to The Navian Condo at Paya Lebar
There are many anchor tenants located at Paya Lebar Square such as Giant Supermarket as well as MacDonald's. It is a popular shopping mall among the young and trendy due to its location and tenant mix. Residents of The Navian are only a short drive away from Paya Lebar Square as well as Paya Lebar MRT Station.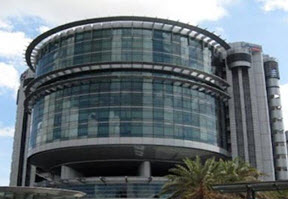 Singapore Post Centre Beside The Navian

Singapore  Post Centre is an office building located right next to Paya Lebar MRT Station. It has a wide range of F&B Selection as well as retail shops located at the first floor of the development.
Some of the anchor tenants located at Paya Lebar Square include Fair Price, MacDonald's, KFC as well as subway. It is a popular centre for food lovers due to its wide selection available for the office crowd.
The Navian Roxy-Pacific Homes
The Navian has full and unique facilities, which includes a guard house, clubhouse, function room, indoor gym, tennis court, 50m swimming pool, sun deck, BBQ pits & children's playground. The condo's facilities provide full family entertainment needs for your family and loved ones. Indulge in a serene and tranquil lifestyle right in the heart of Eunos. Penrose Condo is also located near to Aljunied MRT Station as well as other developments for your consideration. Penrose condo is by City Developments Limited
The site at The Navian now consist of individual lots combined which are 180, 182 and 184 Jalan Eunos which has an estimated combined land size of 7,685sqft. Roxy Holdings intend to combine it with their existing plots with 178 and 180A Jalan Eunos that it has previous acquired in February 2016. The combined land will have a plot ration of 1.4. 178 Jalan Eunos was acquired last time for $4.1 million and the combined lots of 180, 182 and 184 Jalan Eunos was brought over with a price of S$10.978 million. The combined land by Roxy Pacific Holdings will be launched soon as The Navian. The Navian is located in the quiet part of Jalan Eunos away from the Pan Island Expressway (PIE). Investors who are looking for a good freehold property tucked in a serene part of Eunos may find The Navian a good investment choice. Other freehold developments which are located in the core city centre include 8 Saint Thomas Great World City which is by the developer Bukit Sembawang Estates. 8 Saint Thomas is a upscale development that has already achieved completion status. There are also city fringe developments such as Bukit 828 by Roxy Pacific Holdings as well. Bukit 828 is a freehold development next to Bukit Panjang MRT Station. More information with regards to RV Altitude condo which is a new development by Roxy as well at Great World City is also available here. For buyers who are looking at EC Developments, there is a new development Piermont Grand Sumang Walk CDL which is located at Punggol. Piermont Grand will be available for E-Application soon.
The Navian close to Paya Lebar MRT Station and Paya Lebar Quarter
The Navian represents an ideal location for a freehold development next to Paya Lebar Quarter as well as many of the shopping centres along Paya Lebar MRT Station. Paya Lebar Quarter will be a centrally located international mixed-use development and a key catalyst to the URA masterplan to regenerate Paya Lebar and an effort to decentralize the CBD. The Navian is located just minutes away from the Central Business District area.
Kaki Bukit Industrial Hub at Kaki Bukit MRT Station
Kaki Bukit is an industrial hub of the city. Kaki Bukit is full of factories and industrial parks. Kaki Bukit district has five industrial parks. There is hardly any part of Singapore which has five industrial parks. There is every type of offices in the sky high building. e.g., manufacturers, suppliers, and distributors. Kaki Bukit district has a number electric and non-electric manufactures.
Kaki Bukit is also famous for its automobile industry. Some known brands in the market of the automobile are located to Kaki Bukit district. Kaki Bukit: Some known companies Kaki Bukit is full of big names when it comes to the leading companies of the locality. Spinelli Coffee Company, Hawley & Company, Kelantan Electric Company, Associate Stationery Company, Gee Liam Battery Company are some of the known brands who have made their mark on the local and international market.
Cafes and restaurants in Kaki Bukit Compound Coffee co. is very famous for some amazing coffee experience. Compound Coffee is very famous due to its services, taste, and hospitality. Chong Pang is a worth visiting place especially when you are in need of something yummy to satiate your hunger. There is only one choice in the locality when it is about the best satay. Quan Xing Spicy Prawn Crackers has fabulous taste in prawn cooking. How someone can forget Tian Nan Xing Minced Pork Noodles and Nghoi's Curry.
Eunos MRT Station Public Transport System
Eunos MRT is a Mass Rapid Transit train station on the East West Line in Geylang Serai, Singapore. The station was named after a Malay pioneer Muhammad Eunos bin Abdullah. At the time, he kept a land of 700-hectares for Malay settlements lived in the area. There is a bus station named the Eunos Bus Interchange is very close to the station.
The design of the station has a different style than other stations. There is nice cultural and historical feel about the place, architecture wise. It is more cultural and original looking, compared to other close stations such as Bedok, Tampines, Tanah, Merah. The structure has a touch of traditional Malay architecture, and its roof is quite inspirational about Malay history, reminding the settlements lived in the area. Strong materials such as steel beams are used to provide integrity of the station and the colors are mostly Bluish to provide a sense of identity to the area.
The Construction lasted about 13 years before the station started operations. Unlike with most of the above-ground stations, the station is built with privacy screens to minimize noise impact to and from resident living around. This station is also installed with low speed fans to provide ventilation and air circulation.
178, 180, 180A, 182 and 184 Jalan Eunos at The Navian
Several buses are available near Eunos Link and Bedok Reservoir Road. The Navian is also near to many shopping centers and restaurants. The Navian is also near Paya Lebar Square, the shopping, dining and entertainment hub right in the hear of Paya Lebar. Also, are many shopping and entertainment outlet such as One KM Mall, Singapore Post Centre as well as the iconic Geylang Serai Market and Food Centre located in around the area. Entertainment for your loved ones and friends are therefore at your fingertips with the full condo facilities as well as the amenities near The Navian. There are 2 lifts in The Navian. Please also see RV Millenia by Roxy Pacific Homes at River Valley as well. There are also developments located in the city such as Sloane Residences which is located at Balmoral Road. It is a development by Tiong Seng Holdings and Ocean Sky International. Please also see new development at Jurong called Parc Clematis that is located right in the heart of Clementi MRT Station. Parc Clematis Condo is a new project that is for sale by SingHaiYi Group.
The Navian condo comes with quality finishes in the interior of the unit. There is quality porcelain tiles located in the living and dining room. The kitchen will also be equipped with porcelain tiles as well. Bedrooms comes with air-conditioner as well as wardrobe. The flooring in the bedrooms also comes with quality timber with matching skirting as well. Please also see new development Fyve Derbyshire by Roxy Pacific Holdings. Fyve Derbyshire Condo is a new development that is located in Novena at Derbyshire Road. Fyve Derbyshire will be launching soon. There is a boutique development Ollio Condo at Changi by K16 Development. Olloi Condo is located at near to Geylang Serai. There is also a new development called Dairy Farm Residences Hillview that is located near to Hillview MRT Station. Dairy Farm Residences is by the developer UED Residential and is near to Hillview eateries.
The Navian Condo Jalan Eunos
The Navian will be accessible with Eunos MRT Station as well as many of the buses along Jalan Eunos. It is also right beside Pan Island Expressway (PIE). The Navian is also near to Kaki Bukit Industrial Estate, Blk 4A Eunos Crescent Hawker Centre as well as Blk 630 Bedok Reservoir Hawker Centre.
The Navian Roxy Holdings is also near elite schools such as Telok Kurau Primary School, Bedok North Secondary School, Manjusri Secondary School as well as East Coast Primary School.
Freehold Sites to be Combined at The Navian
For vehicle owners, it takes less than 20 minutes to drive from Eunos to the business hub and vibrant Orchard Road shopping district, via Pan Island Expressway (PIE) or Kallang-Paya Lebar Expressway (KPE).
The Navian Freehold Development Roxy Capital
A wonderful and unique lifestyle awaits you at Eunos. Please see The Navian site plan and floor plans for more information.